Product Description
Our unique composite panel cladding boards are created using a co-extrustion method which allows us to make such a high-quality board with incredibly durability and resistance from all weather conditions. This stunning material from the panel cladding range looks as impressive as natural timber wood cladding with no need to paint, stain or oil and will keep its vibrant colour, all year round.
This Midnight composite cladding is the darkest board in the panel range making this ideal for more contemporary looks with a either a dark or high contrast colour scheme. This material has a 1mm capping of durable HDPE wrapped completely around the board making it UV stable. The core consists of the same technology in the decking range. Made up of from 55% reclaimed wood fibres and 45% recycled HDPE.
Board size: 13mm x 142mm x 3600mm
Coverage: 3.15 boards per m2
Weight: 8kg per board
RELATED PRODUCTS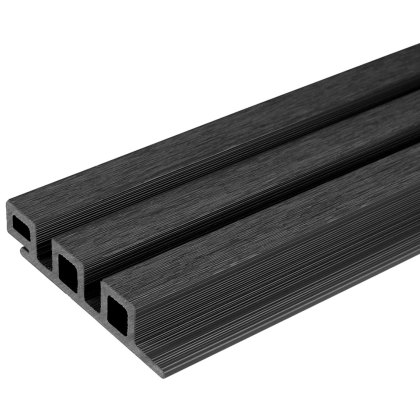 People who bought this also bought...