Tension Rods
View Tension Rods FAQS
---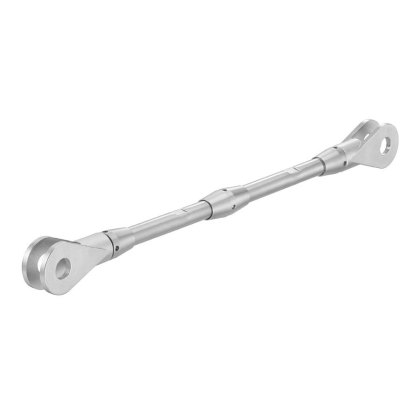 Glass Canopy Tension Rod
Application: façade, glass roof, canopy… Standard range, tailor-made possibility Complete range included: Tension rod, fork, nut, pin sets, circlips, coupler Stainless steel 316Our Tension Rods are to be used for your façade, canopy or glass roof project. These 316 stainless steel fittings help to strengthen the structure. Material : stainless steel AISI 316 – X2CrNiMo17-12-2...
Tension Rods FAQs
What is a frameless fitting?
Canopy bolts, curtain wall spider brackets, and tension rods hold frameless fittings like curtain walls and glass canopies in place. They are not installed in a traditional frame, rather, external supports keep them securely in place.
How does frameless fitting work?
Instead of having a frame that holds the glass canopy or curtain wall in place, frameless fittings use tension rods, brackets, and bolts. This means there is no visible frame. Components are what keep frameless fittings structurally secure.